When Words Get You Killed
It is exactly four years ago when our fellow fighter Ahmed Rajib Haider was atrociously killed by Ansarullah Bangla Team, an offshoot organization of Islami Chhatra Shibir, the student wing of the Jamaat-e-Islam. In 2013 Shahbag movement was sparked and later forged ahead under its specific six point demands including the capital punishment of the notorious war criminals, ban of Bangladesh Jamaat-e-Islami party from politics along with election and a boycott of institutions supporting or affiliated with them. Through this non-violent movement the whole nation unified again to indemnify the history. The dearth of spine in political practice definitely paved the way for the anti-liberation forces to sharpen their stings during post liberation era of Bangladesh. After the killing of our national father the whole political system was in a breach of ideology and the military forces allowed the war criminals in politics. As a result, these criminals became political and economic monsters. Shahbag movement is probably the first uprising of people that has decisively pointed out the economic power house of these war criminals and strived to stop it. Hence, for obvious reasons, this movement is an existential threat to the anti-liberation forces. If we go through the history of our liberation war, it will be evident that during such existential crisis, pro-Pakistani forces always use religion to destroy the communal harmony. There was no exceptional in 2013. A hit list of 84 bloggers was published in the media; subsequently many of them were killed by the Islamic militant groups. The bedrock of Shahbag movement is the spirit from our liberation war. A secular and egalitarian concept of society has been its philosophical study. Shahbag is continuing its dauntless fight against the fundamentalists' futile philosophy and religious bigotry imported with the Pakistani 'Jihad' and petrodollar confined 'Islam'. On February 15, 2013 Ahmed Rajib Haider, one of those who wrote to express their thoughts on the lethal consequences of this indoctrination, was brutally killed. Not like he was the first; in 1999 prominent poet Shamsur Rahman was attacked by Harkatul Jihad, in 2004 noted linguist and eminent litterateur Humayun Azad was under murderous attack in the book fair and on 24 December of the same year, Mohammad Yunus, a teacher of economics, was hacked to death by JMB. These clandestine Islamic groups are changing their name from time to time but their headquarter, Jamaat-e-Islami, remains unchanged.
Ahmed Rajib Haider was an architect by profession and famous in Bangla blogging communities under his pseudonym 'Thaba Baba'. He was from Kapasia upazila of Gazipur district. As an architect, he designed a monument of liberation war of Bangladesh in his own area. On 19 August, 2010 he submitted the design and it was sent to the connecting ministry for approval in 2011. According to the design its height is almost the same as an eight storied building. 21 stairs symbolizing the spirit of the language movement connected the eight feet high dais with the base. The theme of our liberation war was designed to portray three different narratives. Rajib Haider wished to do it without any remuneration.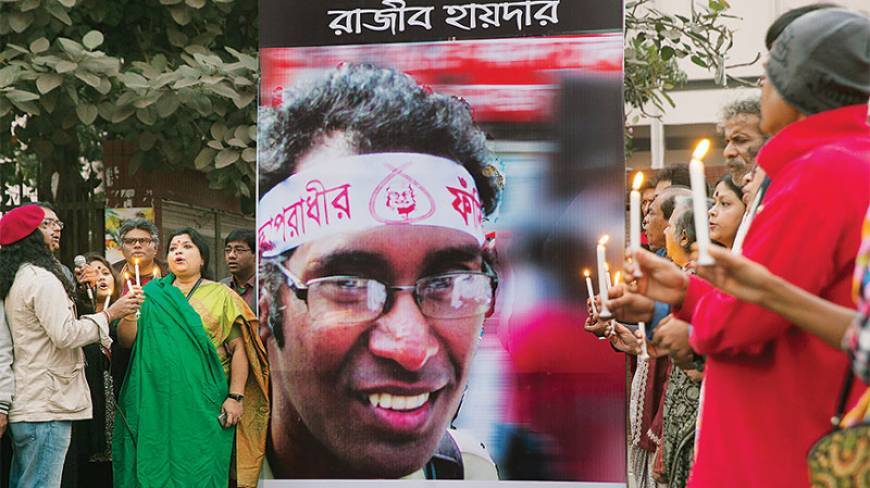 As a writer, he was very straight forward. His enthusiasm covered the area of science, philosophy & literature. As a reader of Rajib's blog, I have found that his key objective was to express his opinion with scientific and philosophical analysis. His poignant criticism was a reflection of his stance. That's why deliriousness from any ism or theory became a target of his criticism. He was loud against the protraction of war crime tribunal verdict. War criminals and their circuits maneuver politics in the name of religion; Rajib Haider reflected this truth in his various writings. Pogrom by using the religion of majority and the persecution cannot be allowed in any civil society. These are the hindrance to progress. Though his statements were very strong and logically pertinacious, he welcomed others' opinions. Dogma is a chicanery for a freethinker, Rajib used to say. One only can place a logic against a logic, a thought or opinion can be challenged by its counter one, many books against a book or vice versa. But no one has the right to hit anybody for expressing thoughts. History and cultural spirit should inform the process how a country is run. But what a tragedy! Ahmed Rajib Haider was killed because he expressed his thoughts, raised his voice demanding the capital punishment of the war criminals. This is an unprecedented loss for us, for our country.
Five students, expelled from North South University, confessed to kill Rajib Haider. They were inspired by the riveting speeches of Mufti Jasimuddin Rahmani, an imam of a local mosque of Dhaka as well as the founder of several Madrasas and also ABT's ideological leader in Bangladesh. In August 2013, Rahmani was arrested from his hometown Barguna along with 30 members of his entourage. The country's Ministry of Home Affairs banned ABT in May 2015. 31 December of the same year a Dhaka court handed down death penalty to two people and different jail terms to six others, including Rahmani. It was nothing but a farce in the name of trial because the self-proclaimed killers were not given the fitting punishment. Gonojagoron Moncho as well as Rajib Haider's family rejected the judgment. Rajib's father Dr. Nazim Uddin appealed against it in a higher court. It concluded the hearings on 09 January, 2017. The High Court will deliver verdict any day on the death reference and appeals.
We are looking forward to the honorable court. When volte-face and conciliation are proactive in all political phases, we must draw the kind attention of our justice to ameliorate this wretched situation. Paradoxical statements on the perilous fundamentalist groups from Government are creating a stalemate in freedom of thoughts and expressions. Government's this kind of brinkmanship is now beyond endurance. Ideology of liberation war is bogging down. Ruling party's quandary to ban the politics of Jamat-Shibir is exacerbating the status quo. But still there is the ray of hope, still we stand hand in hand invoking the proper justice for our fellow fighter Ahmed Rajib Haider.
15 February 2017
This article was published in Dhaka Tribune on the noted date. To read in Dhaka Tribune CLICK HERE